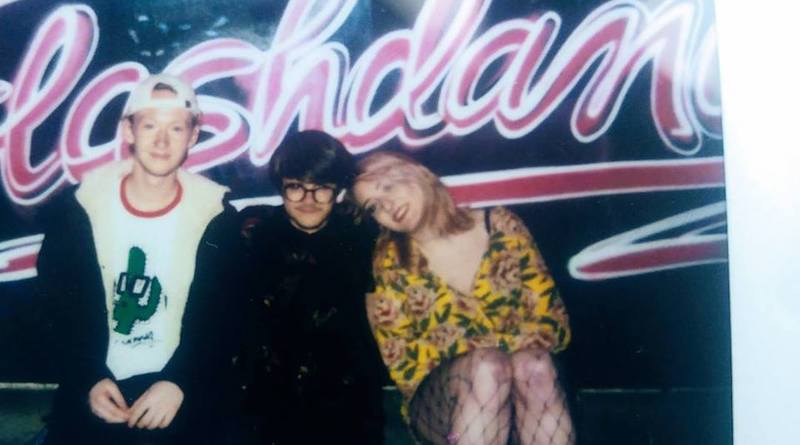 The Sunset Beach Hut are a band that I recently discovered whilst trawling through music from the Birmingham scene that is raging with eternal fire at the moment. This band stood out to me because the wide variety of genres and influences that clearly inhabit their music. Their single "Comfort" is one of my favourites to be released this year and has been on repeat on my Spotify ever since. They're constantly touring at the moment, grinding away and trying to carve their way into the big time, and carry on like this and they will...
Question. What made you 3 want to start making music?
Matty:
Ben and I started playing music together as soon as we became friends, it's always been something that came naturally to us. We started jamming together and ended up writing some tracks and it's been over 7 years now and we still play music together! This band came about just over a year ago as when we needed a singer! We knew Aphra from a previous band and we are all really good friends - she fitted in perfectly! Since then we haven't stopped, and I can't imagine performing with anyone else!
Aphra:
I think we've all been playing and writing music from quite a young age. I've been in choirs since I was about 7 and I started playing guitar around the same time. The first performance I did on my own was for my year 6 leavers play. When I was 13 I joined a local music group (shout out to BYMG you helped me a lot) and started writing, playing music with others and performing. I started joining bands when I was 16 which is how we all met.
Question. How did you all meet and form the band?
Matty:
Ben and I have been friends for years through school and are both into similar music. We were in a Pop Punk band together around 5 years ago after a while we decided we needed a singer and one of the members invited Aphra and she became a member of that band. That band broke up not too long after but then about 2 years down the line we were still friends, so when we were trying to get a singer she was the first person we asked, and we were ecstatic when she agreed!
Question. With a long and quite random name, do people ever call you by the wrong name?
Ben:
All the time. We've always been drawn to long names no matter what band or what music we were making. Our first single with our old band was called "The problem with the past is you can't leave it behind", which I think is also quite long and random considering the topic of the song. Due to people repeatedly getting the name wrong, we seriously considered changing the name and going for something shorter but we decided against it.
Matty:
ALL THE TIME!! It doesn't bother us though, just gives us something to laugh about.
Aphra:
I think the most common one is "The Sunset Beach Club". I even got it when I was on tinder and it said the name in my bio (I'm glad those days are over).
Question. Where did 'The Sunset Beach Hut' originate from?
Matty:
From the offset we knew the kind of sound we were going for so we wanted a name that reflected the upbeat, summery music that we wanted to make. We found something called "[person's name I can't remember] Beach Hut" and we just really liked it! While brainstorming we came up with the "The Sunset" part and decided it was the name we wanted moving forward. We had one moment a few months into the band where we really thought about changing it but I'm glad we didn't now as I've become really fond of it.
Ben:
We were just sat in Matty's room looking for something that could be cool and we started looking through words and sentences in books. We found the "beach hut" part and then just had to find a way to start it. We had already written quite a few songs beforehand, so we already knew the sound we were going for.
Question. You're grinding out live shows at the moment, which has been your favourite so far?
Matty:
My favourites are always those at the Sunflower Lounge. Obviously, there are ones that stand out such as our "Comfort (EP)" release show in February. That was an evening I won't forget as it was the most packed room we've had at the Sunny. Me and Ben sat in the car on our way home and neither of us said anything for so long…We both just sat there with massive grins on our faces!
Aphra:
So many of our shows have been so amazing but my personal favourite was the first gig we played in 2018 at The Sunflower lounge with La Dharma and 10 Guitars (coincidentally the first time anyone called us "The Sunset Beach Club"). It was the first show we played where I really felt at ease on stage even though my voice went towards the end because I had a cold. Also, Jake from La Dharma joined me up on stage for the encore which was a cover of 'Milk' by The 1975 which he sang with his jeans ripped all the way down one leg.
Ben:
The 9th February because it was our EP launch date and so it was packed and so we had loads of our mates down. It was such a great atmosphere! We also shot our music video there so it's a great thing to look back on!
Question. Also, of all the venues in Birmingham, which is your favourite?
Matty:
For me it has to be The Sunflower Lounge. There have been so many incredible bands play there in the past it feels amazing to play on the same stage. We also have such a good time every time we play it! The O2 3 Birmingham will also always have a place in my heart due to it being where we played many of our first gigs we played!
Aphra:
I think The Sunflower Lounge will always be our favourite place to play, but we have really loved every venue we've played at. I was really happy to see that The Flapper is staying open for another year because we played one of our first gigs there and it's where we met our friends La Dharma.
Ben:
The Sunny lounge obviously. It's the greatest venue because its intimate as its quite small.
Question. The Sunflower Lounge has been the hub of the incredible rise of music in Birmingham and surrounding areas. How important has that place been to you like it has many others?
Matty:
The Sunflower Lounge has been such a key aspect in our journey and growth. We've played so many gigs there, especially this year, and made a lot of great friends. We wouldn't be the same band without it!
Ben:
Very important! We've played our biggest gigs there. The sound's always great and due to it being super close to the train station it's fantastic for us as an out of town band as people can easily get to our shows there.
WIN TICKETS TO SEE THE SUNSET BEACH HUT LIVE
Question. You released a few new songs, "Comfort" and "The Tide", in February. How has the response been to those songs so far?
Matty:
The response has been amazing! We have heard so many lovely things about it and to have been played as BBC Introducing Shropshire Track of the Week was a crazy thing that we never thought would happen!
Aphra:
Recently they both reached 1000 streams on Spotify which we never expected when we released the songs which is really incredible, and we are so grateful.
Ben:
Very good! We have hit over 1000 streams since we released them in Feb! 'Comfort' obviously means a lot as it was the first song we wrote as a band. 'The Tide' is also super important as it has gone through so many changes and sounds completely different to what we started with. It has played a huge part in our learning process as a band and been an epic journey and we have ended up with a great song.
Question. I think the sounds contrast quite a lot, did you consciously make 2 quite different songs or are you just making whatever you feel like?
Matty:
Making two completely different songs wasn't something we consciously intended. We all listen to quite a large variation of music, so songs can come out quite different. We enjoy not really knowing what's coming next and I hope the people that listen to our music enjoy the suspense of potentially hearing something completely different with each song. Our next two releases aren't really similar to either 'Comfort' or 'The Tide' so just wait till you hear them!
Ben:
'Comfort' was a definite release when we wrote that track and myself and the rest of the band agreed that should be the first track released. At the time we had a track released called 'The Other Side' which was made with our previous singer, we wanted to recreate the song that our fans knew, it felt like a good choice to put them together more for what they resembled to us.
Aphra:
I don't think it was a conscious decision to make the songs so contrasting. Really they were just the first two songs we wrote together and that meant that they were important to us and we wanted to share them with the world.
Question. Do you feel constrained to one genre when writing and recording?
Matty:
Not at all! We understand that it may mean that people may not like all of our songs because they're so different to each other, but we just write what we enjoy playing and from listening to the songs you can hear that we draw from quite diverse influences which are always evolving. Personally, the music I listen to changes all the time, so I am always getting new influences to build into The Sunset Beach Hut and the path the songs take.
Ben:
Myself and Matty write a lot of music and have hundreds of demos and ideas stored away from big orchestral numbers to trap dance songs. It all depends on our mood and current tastes. When we sit down to start creating new material we just go with it, Aphra then usually listens to all our stuff and comes back to us with lyrics on tracks she's picked to work with. This is a very experimental time for us as a band trying to find the sounds we like the most and figuring out the direction we want the band to go in.
Aphra:
I don't really aim for a certain sound to the point where it's hard to point out what each song has been really influenced by. In the end I intend to create something that is entirely me, whether that means our music comes out more pop ballad-y or folk influenced.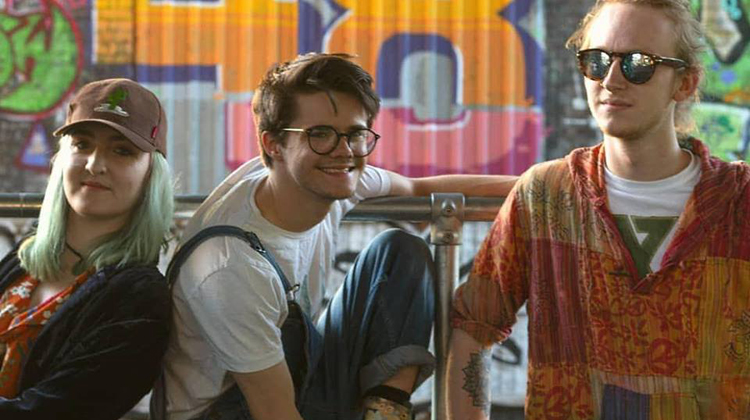 Question. How does your writing and recording process usually pan out?
Matty:
Normally one of us will go to the others with something whether a riff, a drum beat, bass, vocals, whatever and then we just work from there. There isn't a set way in which we write which is another reason why our sounds can vary so much! Depending on where the song originates from can really change how it turns out.
Aphra:
When it comes to lyrics it depends on whether I'm writing on my own or to something Matty and Ben have sent me. If I'm writing on my own I tend to start with lyrics to a rhythm, then add a melody then work out chords. When I write to the guy's stuff I start with more of a melody then add lyrics. A lot of the time I find myself flicking through my notepad trying to find a line or two that fits well and then expand on that.
Ben:
It usually starts with myself and Matty coming up with a bass line and one guitar riff and working from there. We listen to a lot of music before going into a writing session to gain ideas and motivation. Songs take a long time to make and finish, months and months on end tweaking and making everything clean. I remember 'Comfort' and 'The Tide' took around 8-9 months to finally finish and have ready for release.
Question. What is the planned future for The Sunset Beach Hut?
Aphra:
Just more gigging really. Taking every opportunity we get, to go anywhere, and writing a load more music. Of course there's the single release on the 29th August which we're looking forward too.
Matty:
We have our gigs planned out until pretty much the end of the year but apart from that we are just taking every opportunity we can. We are loving gigging and writing so much, and we have so many ideas that you will be hopefully hearing about soon. We have a HUGE announcement for the new year so be keeping your eyes peeled for that!
Ben:
At this time, I couldn't tell you, I don't think any of us know, which is the most exciting part really, anything could happen. Right now, we are just writing a lot and playing as many gigs as we can and just enjoying what we do. Obviously, you can be hopeful for a bright future but who knows I guess we will have to wait and see what happens.