April Towers have been described as a 'fusion of Pet Shop Boys and LCD Soundsystem' and honestly what more information do you need than that? The duo from Nottingham have just released their much awaited debut album 'Certified Freaky' to much praise from old and new fans alike. And I have to say, it's a great listen, intriguing sounds intertwining subject matter that didn't resonate with me until the second listen where I really dedicated some time to actually sit and listen to the music properly. And despite producing such fun, enthusiastic an ground shaking bangers, I think this is the best way to listen to April Towers. I was lucky enough to grab an interview with the Midlands duo, Alex (Vocals) and Charlie (Guitar/Keyboard) discussing their debut album, being on a FIFA soundtrack and why they left out that song from their debut album...
Question. First and foremost, Where did the band name 'April Towers' originate?
April Towers:
I was working one day and it was really heavily raining - it was April and he said the age old expression 'April Towers bring May Flowers'. It was a slip of the tongue on his behalf and it got me thinking that was a potentially excellent band name. When we formed the band we instantly decided on it as a name.
Q. Nottingham's music has been growing from the underground for a while now, do you feel it's helped to grow out of such a brilliant and unique city?
April Towers: Notts has come on leaps and bounds as a city in every sense of the word. The explosion of new music in the city has certainly helped us and to be part of such a supportive and loving scene has definitely made things easier for us. The city is respected nationwide now which hasn't always been the case. We are really proud to be helping the city reach new heights musically.
Q. Living in a city with a Rough Trade is always a privilege, do you feel that their support of smaller, unique and independent bands has helped in your growth to this point?
April Towers: Rough Trade was a game changer for the city to be honest - there was some scepticism initially as to what its impact would be on Nottingham and whether a huge and internationally renowned brand would care about local music, but it's been a revelation. The way Kyle and the team promote and champion Nottingham music is so important for the city, and the showcases and events they put on always have a local audience in mind. And also the fact a new Nottingham band can have their physical record in such a famous shop is an asset.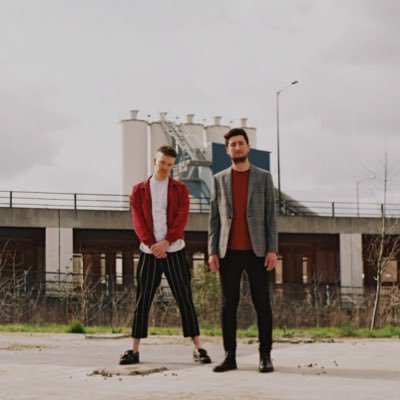 Q. Who are your favourite bands coming out of Nottingham right now?
April Towers: There are so many to mention - artists like Deco, Lunah, Vega Bay, Rob Green, Wolf Club, Jetlines, Jaymal, Komino - we could go on and on and on. Nottingham is in such a healthy place right now and I think it's the diversity in the scene which makes it so so great.

Q. You've just released the album 'Certified Freaky', where did the name for that come from?
April Towers: My (Alex's) Dad went on a business trip to China when I was probably 12 or 13 and he always used to bring clothes back for me and my brother - he came back with this white T-Shirt that simply read 'Certified Freaky'. It always stuck with me as a great album title and I still have that shirt somewhere, maybe it can go on eBay when it goes platinum!

Q. 'Certified Freaky' hasn't been out long but it's already received a great response. How does that feel?
April Towers: It's been pretty overwhelming to be honest, it's been a long time coming and you're always a little nervous as to whether people still care! The response on release day proved they still do and we are both so grateful for all the wonderful feedback and comments we have received. It's every band's dream to release a full album and the fact it's now a reality is mind blowing.
Q. I love the art of the album, what the story behind that and why did you go for that particular design?
April Towers: It's an interesting one with the artwork - our friend Warren Xclnce designed the artwork a few years back and we have always kept it in mind for our first album. We wanted something that combined science fiction and nature with a real life grit and I think he's reflected that perfectly.

Q. I saw on Twitter that one guy had donated £400 towards the album, what's it like to have a fanbase so unbelievably dedicated?
April Towers: The whole Pledge campaign was a crazy experience - the fact that a man who we had never met put that much money into something because he believed in it so much is still something we can't really get our heads around. We shipped the album to over 20 countries. We are an unsigned band and to have that kind of following and dedication is something we will never forget. Alex decided to go to Luton to meet Paul who had pledged £400 to the album and to deliver it personally!

Q. The release was delayed a few times, is it relief to finally see the album come to fruition?
April Towers: The delays were frustrating but unavoidable, Alex had some health problems in April and it meant that we just couldn't commit to a release date when we weren't in the right headspace. It's certainly a relief, but it's more a feeling of pride if anything!

Q. It's definitely a progression of your sound, in many ways it feels darker and yet more upbeat. Was this the sound you were going for?
April Towers: There were many people who felt that our debut was going to be ten upbeat pop singles and it's understandable why there was that school of thought, but we really do enjoy more tender moments and that's reflected on the record. A great album ebbs and flows, it has its frantic points and its most vulnerable points. Without sounding incredibly pretentious, it's a journey and one that we had to plot in the right way. There are certainly darker elements to the record but we've always had that edge to our music.

Q. Alex, I feel your vocals have just moved to the upper echelon, have you been working on that a lot?
April Towers: Thanks very much! I would never profess to being a vocalist that spends hours every day perfecting my craft but one thing I did differently in the recording process was have a vocal coach with me. Wenny was superb and helped me through the whole sessions - I sang ten songs countless times over a four day period so it was something I needed to properly prepare for to get the best results and I think we achieved that.

Q. Why did you leave 'A Little Bit of Fear' off of the album?
April Towers: This is a question we've been asked a lot and for good reason. We made a conscious decision to leave the majority of older singles off the album, mainly because they had been part of the Silent Fever EP and they had their place in our discography already. We still love the song and we will continue to play it live, but it was old in the context of most of these records and we wanted to do something completely fresh.

Q. Of course many people will remember that anthem from the FIFA 16 OST. What was that like and how did it happen?
April Towers: FIFA was moment where we transitioned from local band to international band almost overnight. We were in a position where rather than getting 1000 streams a month we were getting 1000 streams in half an hour and it was massive for us. Just on a personal level too, we are both huge football fans and fans of the game, and we very nearly retired, because where else do you go from there?

Q. Your live shows always look like such a blast, what's it like to be able to perform your music in front of rooms full of people?
April Towers: The AT live show is really the best reflection of what we are about - we want people to have fun, relax and just forget about the real world for an hour or so. It's an awesome feeling, to be doing a job which makes people happy (well, some people!) and our live show is fully reflective of that! We have brought in live bass and guitar now as well as more percussion elements so when we tour in September we will be firing on all cylinders!

Q. Charlie, your production and guitar work always receives so many plaudits, especially at live shows, have you always wanted to be in a band or is it something that you've progressed into as you've gotten older?
April Towers: Thank you very much! When I was a teenager all I wanted to do was play guitar - I never had an interest in production or anything like that. I would just spend my time learning Radiohead and Strokes riffs in my bedroom. The production thing was really a happy accident when our first band 'Frontiers' disbanded in 2012 and I decided I wanted to start making electronic music. April Towers is a nice fusion of the two for me and it means I am able to play guitar and make dance beats!