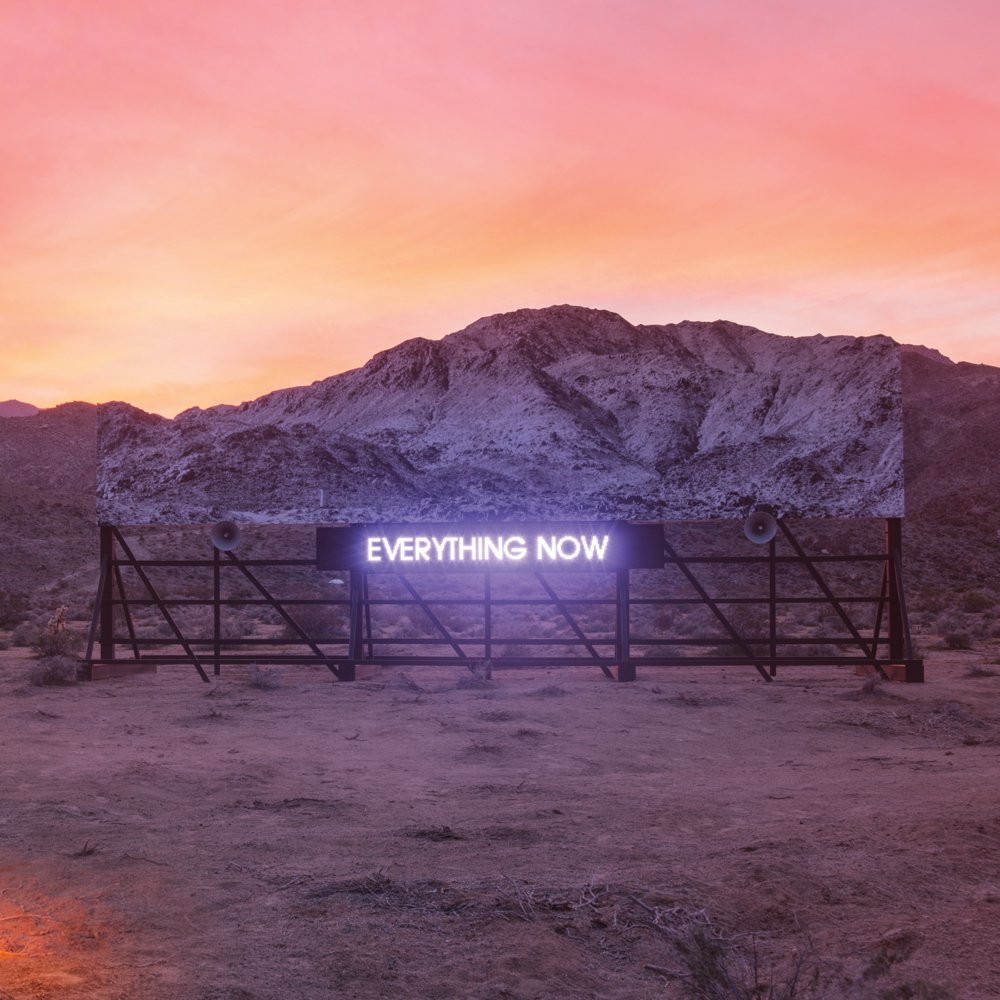 Arcade Fire are a band that I've never really cared all that much for, I've always seen them as overhyped and their long, played out tunes always grated me to the core. However, within the past year or so I've really come to appreciate their graft as musicians with their album Funeral being a tough listen yet still representing some brilliant work by an incredibly unique band. 2013's Reflektor is the bands top spot in my personal opinion with some of their best tunes coming from that record. It also contains my favourite Arcade Fire song, We Exist. But Arcade Fire's uniqueness has carved their way into pop culture as we know it. However, their marketing for the new album involved the very controversial yet very fictional all encompassing business named Everything Now. Once you know of the idea of this large, monopolised world that Arcade Fire have created it makes the single Everything Now make a lot more sense.
The album opens with Everything_Now (Continued) the first of THREE songs on the album named after the body of work it lies within. What this song essentially is, is an instrumental based off of the single. It doesn't really add anything to the album but it represents the album nicely and introduces what you're about to listen to really well but to reiterate, if this wasn't on the album, it wouldn't be missed and no one would notice an obvious gap at the beginning of the album. The title track of the album though is a staunch rise to form for the Canadian band. A harsh attack on the consumerism of todays society with, lead singer, Win Butler stating "Every room in my house, is filled with shit I couldn't live with out" and their constant expression of wanting "Everything Now". Included in the
stomping track is sing along "Woops" that make the song so strangely addictive and captivating.
It's a shame that the rest of the album can't keep up with the bounding title track. The worst of which is Infinite Content, a punk-esque track that is so sonically terrible it's hard to listen to. But to make matters even worse, the following track titled Infinite_Content which is the same song and same lyrics is a slow ballad of exactly the same track! How has years of working on an album lead up to just remixing the tracks on the album and rereleasing them. You just can't help but feel a little short changed. Electric Blue sees Regine return to the front with her high-pitched vocals providing a nice change in sound from that of which we are used to. However, I would have liked to have heard just a little more from her throughout the album as she is ultimately pushed back to backing vocals for the most part and I feel that doesn't utilise her talents enough.
Creature Comfort is a phenomenal track that deals with many teen issues of today and contains one of the most trippy set of electronic instruments in the background, on paper the track should sound absolutely abhorrent yet it actually works and I don't know why it's so perfect but it's definitely one of the best songs on the album. And that's the problem with Everything Now, for every Creature Comfort it produces and Infinite Content leaving you thinking of what could have been if only Arcade Fire had been pushed down the right road during production.