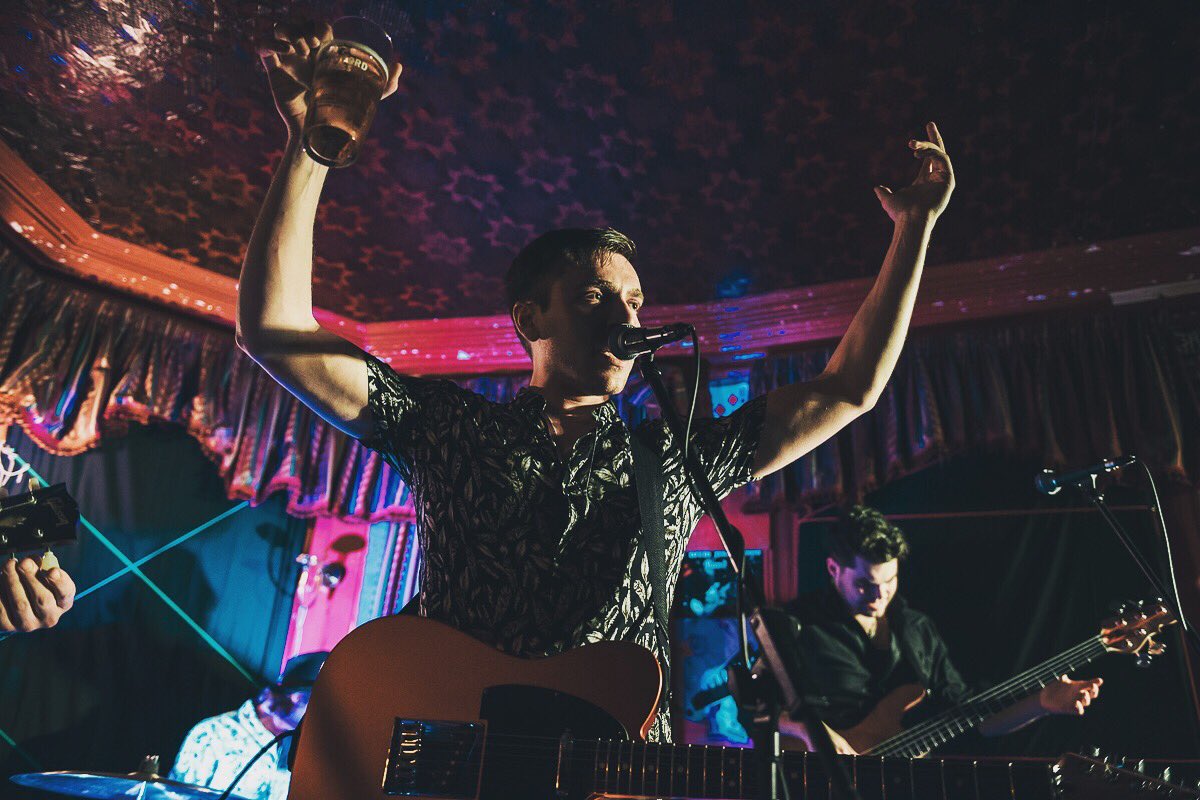 COAX are a band whom I recently followed on Twitter after hearing some of their music, the lead singer Andy then emailed me asking me to listen to their music. It was the perfect opportunity to get an up and coming, incredibly talented band on the 'Introducing...' series that you guys love so much. COAX released their EP, Holding On, not long ago and it has been something I've been enjoying very muchly. The review is coming soon. The band are incredibly talented with some very rock influenced vibes but there's a much softer side to them, with much of their lyrics being very insightful and very sensitive. I had the chance to talk with lead singer and guitarist, Andy Muscat, about what makes COAX so special...
Question. Firstly, What made you want to start making music?
Andy Muscat:
Me (Andy - singer/guitarist) and Ben (drummer) have known each other for years, and have always wanted to work together but the timing hasn't worked out until now. And we've both known Jimbo (bass) for a few years, so that was a no brainier as he's just ridiculously good! Then when we decided to meet up and see what we could come up with between us, we found Brian (lead guitar) through friends and instantly hit it off, and we've not stopped writing since!
Q. What was it like getting into the studio for the first time?
AM:
Actually really easy! We're all session musicians so we're used to the environment, but as creatives we just all understood each other's visions and it all came together better than we ever could've predicted. We all have different ideas but when we put them all together that's what creates the COAX sound!
Q. Who were your biggest influences?
AM:
We just want to write music that we love, and that we hope other people would too. We love big stadium bands like Kings Of Leon, One Republic and Coldplay, but also lyrically we definitely draw inspiration from the likes of Ed Sheeran and James Bay as well.
Q. Where did the name COAX come from?
AM:
Funnily enough, it just kinda happened. We wanted something simple, that people could remember and the way we kinda coaxed each other together, it seemed fitting!
Q. Your new EP is out and it's very good. How does that feel?
AM:
Well that's very kind of you to say! It feels good to have it out, but even better to know that people like it! We've been working hard and it's great to show people who we are and what we do, and we've now got a bigger catalogue of tracks that top the EP so people will have to come see us live to hear those!
Q. What's the story behind the EP?
AM:
It's kind of a tale of heartbreak, and being in that post-relationship phase where it's fight or flight on whether you want to go back or not. There's also some other meanings within the tracks but we'll let people figure those out
Q. What's the biggest hinderence whilst making music?
AM:
We'd probably say the biggest hinderance is being patient! We write a new track and instantly want everyone to hear it, but we understand you have to wait and record and do things at the right time, but we're all soo passionate about what we do that we just wanna put the tracks out there!
Q. And why do you think your music sets you apart from the competition?
AM: I think what sets COAX apart from the competition is that when we play, audiences are singing the songs back when they've never heard the tracks before. And that feeling is crazy, and unbelievably inspiring. We work hard to make sure we're completely happy with everything, and to make sure that we can provide the best possible show for people! When you come and see COAX, you get your money's worth!


Q. If you could collaborate with any artist, who would it be?
AM:
It's quite rare to see bands collaborate with other bands, so it'd be cool to do that. Musically I think we'd work really well with someone like Haim, they've got a great sound and it'd be cool to collaborate with them! Although it would be great to write with Ryan Tedder, as he's also a big influence on COAX.
Q. What's your recording process like, is it easy or is it very challenging?
AM:
The same as with rehearsals/writing really, it's just naturally quite easy for us. We all have soo many ideas buzzing round and bouncing off each other that it works really well, and we tend to do a bit of pre-production so we can really utilise our time well once we head in to record. We know our sound and what to add to keep it sounding like us, whilst constantly pushing it to develop.
Q. And how often are you going in to the studio?
AM:
We tend to be writing quite a lot every week, but we'll come up with an idea and voice note it, then send across WhatsApp to each other and develop it from there. Then when we meet up, we'll develop it further in an acoustic environment so that when we rehearse full kit, we've got the bones of the track ready. And it keeps us constantly writing, even when we can't meet up for a few days.
Q. What's your future plans for your music?
AM:
We're currently rehearsing hard for a couple of festivals we have lined up (Meraki in St Albans on Sunday 13th August, and Victorious in Portsmouth on Saturday 26th August), as well as constantly writing and we have another 2 singles pretty much ready to go, so that'll be something that will be released later in the year! Also more shows are on the way!
Q. And finally, how would you describe your music?
AM:
Big choruses mixed with heartfelt lyrics and catchy guitar riffs, for fans of Kings Of Leon and James Bay!
Purchase COAX's EP, Holding On, on iTunes