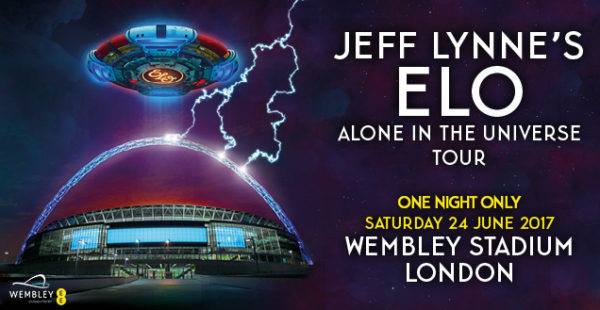 When you get given the chance to go and see a legend live, you never turn that opportunity down. Electric Light Orchestra are legendary pop-rockers, spear headed by the one and only Jeff Lynne. A legend in his own right. For one night only Lynne and co were in London, more specifically Wembley, to blast out all of their greatest hits and finally take the chance to play at Wembley. Immediately as you're walking up Wembley Way and you can see the great arch in front of you, and the 90,000 capacity resting below it's thin shadow. You know this is special, it can make the hairs on the back of your neck stand up just by being around the stadium when there's a concert going on. As a 20 year old lad, I significantly brought the average age of the crowd down. But nonetheless there's still the air of anticipation floating around and it makes for a fantastic evening without even hearing a single note of music.
Inside the stadium, we were seated near the back but Wembley being so big there isn't really a bad seat in the entire place. The stage was very minimal for the biggest gig of Jeff Lynne's career, but still extremely effective as numerous screens sat behind the stage with the legendary UFO perched overhead very ominously. I was expecting the UFO to lift up and possibly move around bait, but it didn't do anything which was disappointing. An overpriced beer and hot dog later and we were ready for the first support act, The Shires, a self-proclaimed "British country band". Whilst their music doesn't appeal to me in the slightest, it's hard not to respect an artist who is evidently very good at trade as these two were, the lead singers voice was pitch perfect and the acoustic guitar was delightful. Not to mention it must be very off putting to play a gig to a half empty Wembley as many people are stuffing their face in the concourse or haven't even bothered to turn up.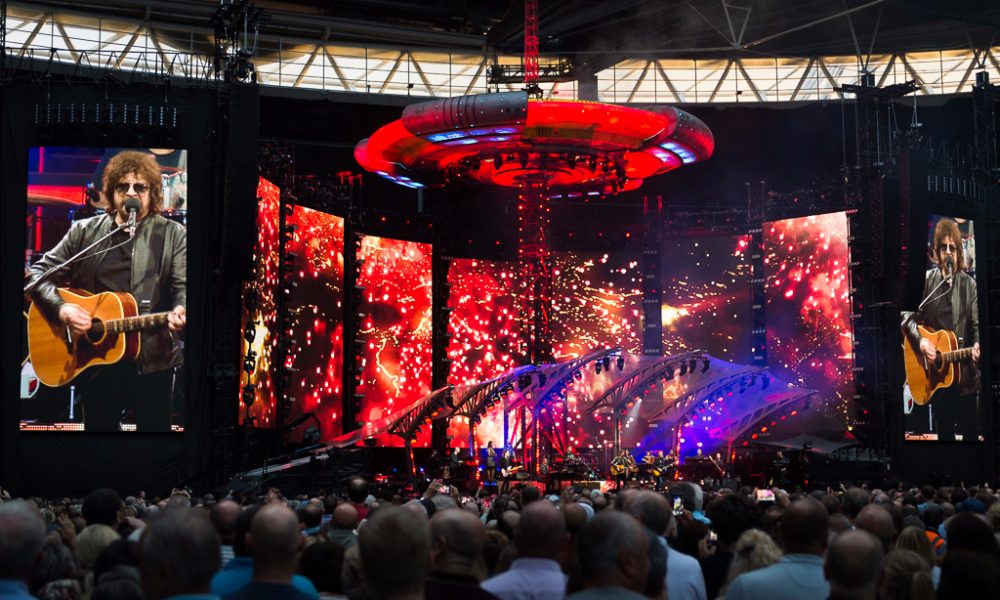 The second support act was Tom Chaplin, whom appeared to be an aged singer-songwrite with a tint of cabaret to his music, he wasn't particularly getting Wembley on its feet either as he stumbled through his set of similar sounding songs. However, towards the end of his set he began to sing Keane's Somewhere Only We Know, one of the greatest sombre yet uplifting songs of all time. I was expecting him to murder the song as soon as the first note was struck on the guitar, however he sang it phenomenally close to how Keane would. Which got my brain ticking, and suddenly his face was recognisable to me, Tom Chaplin is the ex-frontman of Keane, it's safe to say he should have stuck with the indie rockers.
By this point I was praying that Jeff Lynne come on and smash it out of the park, because the support acts had done nothing to whet my appetite. Thankfully, he was phenomenal. For a 69 year old man, it must be very hard to consistently motivate yourself and keep giving back to those fans whom had been so loyal over the years, but he paid them back in troves inside Wembley. As the sun set behind Wembley and the sky turned orange, Jeff Lynne decided to lift the roof off of the famous stadium by producing hit after hit after hit. With openers such as Evil Woman, Showdown and All Over The World sending the crowd into a frenzy before slowing things down and taking a moment to even cover the Travelling Wilbury's song Handle With Care which was one of my personal highlights of the night because it was performed with such talent and care. The concert strolled along through 10538 Overture, Twilight and Ma-Ma-Ma Belle. But as the sky turned pitch black and the lasers started to ring around Wembley ELO began to lift the tempo with Rockaria and Last train To London.
When they performed Sweet Talking Woman, the aged crowd went absolutely mental. With people out of their seats dancing, clapping and screaming along to the words. Things only got more frantic as Tunr To Stone was thrown at the crowd, and they welcomed it with open arms. But it was the performance of the undeniable classic Mr Blue Sky, which seemed to turn back the clocks and make London sunny again which really drew the night into the history books. Jeff Lynne looked so visibly pleased to see Wembley having a good time I thought he was going to start crying with joy. So here's to you Mr Lynne for smashing it out of the stadium.