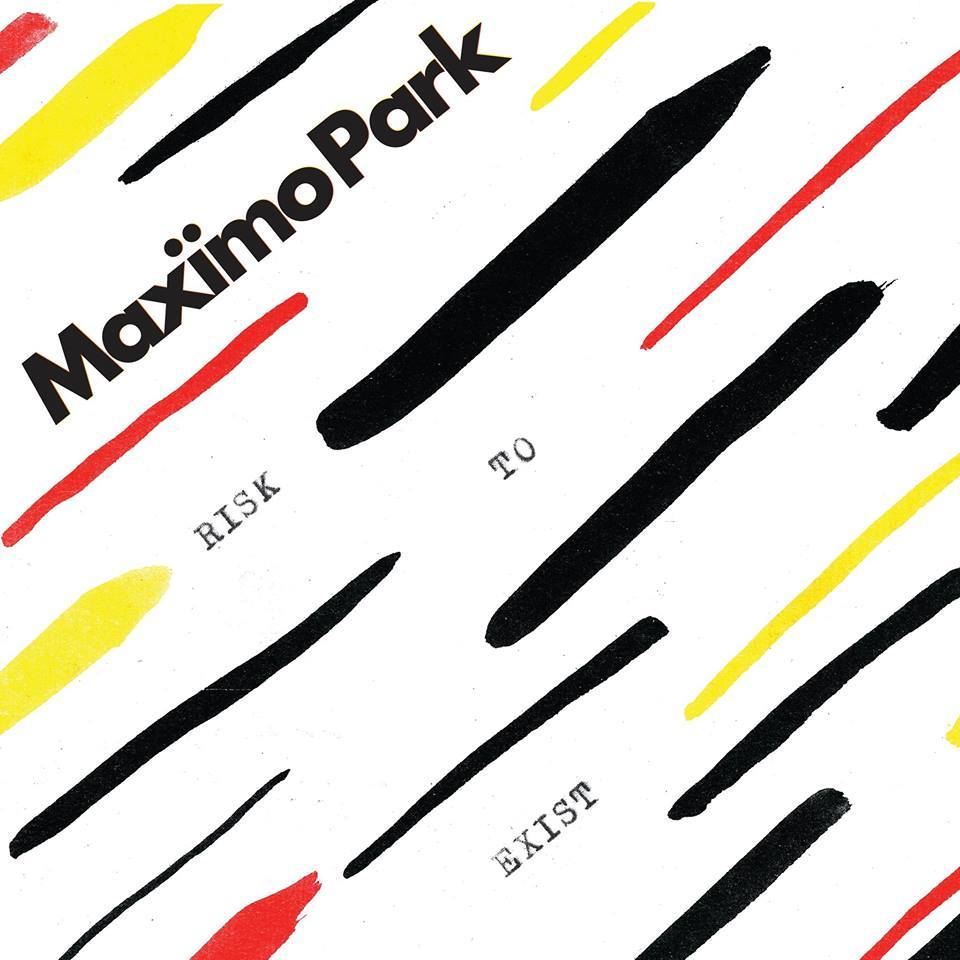 Maximo Park are a band of four from Newcastle, they were originally five but bassist Archis Taku announced his retirement before the band released this album, their sixth studio album in the space of twelve years. I've always regarded them as a continuation of Britpop and a criminally underrated band. Something I've always admired is that they make the music they want to make and bothered about aiming for a more mainstream sound, which is always a positive thing to see in music because it means they really enjoy the music they are making. Nonetheless, their first album, A Certain Trigger was well received critically and was even nominated for a Mercury Prize Award. However, it was their 2014 album Too Much Information that really shone for me, including deep meaningful lyrics and places and expertly played grunge-esque guitars throughout. Not to mention it was a well rounded, cohesive project. So, how did they follow up that stellar album?
Risk To Exist kicks off in the strongest possible way with What Did We Do To Deserve This? A damning political jab at the higher powers at force, stating throughout that they're doing their utmost to preserve a society where they tread on the poor, lower classes to preserve their own wealth as lead singer Paul Smith cries What Did We Do To Deserve This? and the political nature of this track coincides with the bands press release stating that it is "informed by the dire state of world affairs in 2016 and the crumbling political systems" and although Trump isn't name dropped at any point, they may aswell have titled the song "an ode to Donald Trump" it would have received a lot of press at least. But a phenomenal track nonetheless with excellent drum playing throughout, really driving the beat along. The next song, and the third single, Get High (No I Don't) is a thundering single with Paul Smith's voice almost acting as another instrument in this track, reaching a higher pitch as the song blisters towards the chorus. However, the theme of the track can't help but make me cringe, something I've never experienced in a Maximo Park. Nonetheless, the song is very catchy and has a funky bassline running throughout.
What Equals Love? is my favourite song on the album, it's a tale of going through failed relationships and starting wonder what love even is, it's a tale as old as time but what is thrown in here is an element of how a man can not express these feelings because you're not regarded as a strong male then, as they state "tell the truth and you're not tough". The jumbled mess of the vocals overlapping towards the finale of the song perfectly represents the theme of the song, and it's melodic lead up to that point before the big explosion and change of pace in the last minute, it's expertly created. The title track of the album, Risk to Exist, is a blistering attack on Brexit and this is where the lyrical prowess of Duncan Loyd comes to the forefront because a lot of their listeners are really going to resonate with these lyrics, much like this track really resonated with me. It's also the astounding wordsmith and poetry on show here as a picture is painted of the UK slowly drifting away from Europe and succumbing to the sea as it drowns on it's own with no help.
A song that I'm not particularly a fan of is The Hero, it sits very deep in the album but it doesn't really add much to the theme or schematics of the project. In fact it's actually a departure from the common themes of politics and love/loss and whilst it's not necessarily a bad song, it's actually very listenable, it's just extremely out of place on what is almost a concept album in many ways. Overall, this a fantastic development on Maximo Park's sound with a step up lyrically attacking and spearheading current issues, the only worry I have is that it will start to sound outdated in ten or so years, but for now it's a current album and it is definitive of these tumultuous past few years. Throw in some expertly written lyrics and great guitar playing you have a fantastic new album from Maximo Park, I thoroughly recommend that you go listen to this if you're a fan of indie rock or post-rock.