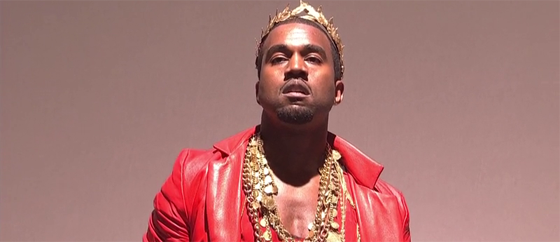 Hopefully,
you've read 25-11 before coming here
. If you haven't go check that out before reading forward! But to finish this off we will go through my top 10 Kanye songs in anticipation of his new album next week! So, without further ado here is number 10:
This song is absolutely mental, when that beat hits I just want to spaz, I loved the direction of Yeezus. I love to see a progression from artists and I also love to see them doing whatever they want and Kanye did that on this album. Now this song contains the perfect sample and Kanye's ear for beats is simply amazing as per. Perfection and the best song on the album by far. Although, a little stronger subject matter, or a better processed matter would have helped this move up the list.
Not even the last MBDTF song on this list, but what an opener. Arguably one of my favourite album openers of all time simply due to the fact that it is harmonic, and relatively less dark than the rest of the album. Not to mention that it actually made Nicki Minaj bearable, just like monster did... The Kanye effect.
8. Blame Game
purely for the incredibly funny Chris Rock skit at the end, which is hilarious and if you haven't heard it then listen to it. Plus the verses are dark and fit the agenda that I like to see Kanye using when he's making music. Not to mention how soulful John Legend is in this song and the subject matter, right in the feels. "I heard the whole thing". what did you do Amber?! The only downside to this song being that it's a little lengthy for little reason, it could definitely be cut down to at least 5 minutes.
7. Gorgeous
I love the distortion in Kanye's voice on this eclectic song, What's especially perfect is the lyrics. Attacking the government, uncovering a conspiracy against aids, is there anything Yeezus doesn't know? But Raekwon comes through with a great verse at the end also and when it's tied to together you get an ALBUM TRACK, not even a single, on one of the greatest albums of all time.
6. Hey Mama
"Hey mama, i wanna scream so loud for you, because im so proud of you". Kanye why you messing with my emotions like this? I'm 16 tracks deep in a 22 track album I don't need this many feels right now! I know this was made a few years before Donda's tragic passing but knowing what happened now just makes the song even more emotional. Not to mention that Kanye's singing on this is absolutely beautiful aswell. I would love to hear this live, but I know that the last time Kanye performed it he broke down, I couldn't do that to Yeezus. Fun fact: Donda actually had this song as her ringtone
5. Lost in the World
This song is magnificent, I love every single part of this song including the transition into Who Will Survive in America at the end, Justin Vernon deserves a pat on the back for this song aswell because the Bon Iver influence is so obvious it could probably be Bon Iver featuring Ye, but what makes this song better is the fact that Kanye's verse is supposedly an e-mail he sent to Kim K which he announced at Glastonbury. I love when a song has a story or has a story intertwined with it, much Kendricks Good Kid, m.a.a.d. city which was arguably one of the greatest albums of all time. Not to mention the harmonies in this song bring it all together and if it's played loudly it's explosive. It really is an experience.
4. All Falls Down
I adore this song for so many reasons. I think it is slightly hypocritical as it sort of slates spending for the sake of it, but before macklemore made it cool, but we'll overlook that. Syleena, has an incredible part to play in this song and it's a wonderful choice of feature for this song because it moves it into an almost soulful section. Another thing to love is the music video, filmed from Kanye's point of view, it shows the story of literally a relationship breaking down as she leaves from the airport. One thing i used to see on tumblr all the time, before I deleted it, was the line "the prettiest people do the ugliest things". And another thing about this song is the fact that Kanye talks about being self conscious and it is probably the first time a rapper has ever spoke about personal things like that, which has led to the birth of artists such as Drake. The Kanye influence.
3. Otis
The epitome of all that is good about Watch The Throne. Jay spits, Ye spits. Its fast paced, it's brash nd its cocky. It's everything I wanted the album to be when it was announced I didnt want anything slow like New Day and introspective I wanted 2 of the greatest rappers of our generation trying to outspit each other over amazing beats. Although the album received mixed reviews and it was abit incohesive this song immediately stands out. It has a soulful sample from one of the greates Otis Redding songs and even includes the screams at the end. This was amazing live. I can't even describe how good this was. A landmark moment in Kanye's careed for me.
2. Power
Everyone knows the words to this song. There isn't a single person under the age of 30 who doesn't know this song because it's perfect. When this song dropped I'm surprised the world didn't melt. This is the definition of fire. After the whole 808's saga of Kanye's life, being called an asshole by the president and the whole Taylor Swift scandal he had to return to form quickly to get the public back on his side. This was the song that followed those events, undoubtedly all of the haters disappeared and a new era of Kanye music was born. One thing about this song is that I remember the exact moment I first listened to it and that is the true power of great music, it brings back memories and helps you to feel things that sometimes can only be associated with that song. But not quite my favourite Kanye song...
That's the top 9, 5 of the songs from My Beautiful Dark Twisted Fantasy made it into the top 10. That just proves how great of an album it is. And what else is interesting is that no other album features twice in the top 10 which also proves how consistent Kanye's brilliant discography is from the very first singles to the very last album track he is one of the most consistent artists of all time, let alone our generation. And now, moving onto the number one in my list, which in the future will hopefully consist of a few songs from Waves, or whatever it is finally called...
1. Flas
hing Lights
Yes, Flashing Lights. It's not a typo. This is my favourite Kanye song. I love this song so much and there's a story behind why I love it so much. I didn't like this song when I first heard it on Graduation, I thought it was a little bit average, nothing special, nothing bad. But then on June 22nd 2012, I saw Kanye perform this live and it just created such a happy atmosphere in the crowd and it was so expertly performed that I fell in love with the song there and then and ever since it has become one of the most played songs on my iTunes and continues to bring happiness to me, to this very day. I love the singing by Dwele in this song so much, it's so harmonic and fits in so perfectly when it overlays the end of the verses over the laid back beat. Not to mention the subject matter is Kanye's favourite, his hate for paparazzi's. Eclectic, beautiful and most of all it's such a simple song, it isn't overthought or overproduced. Perfection.